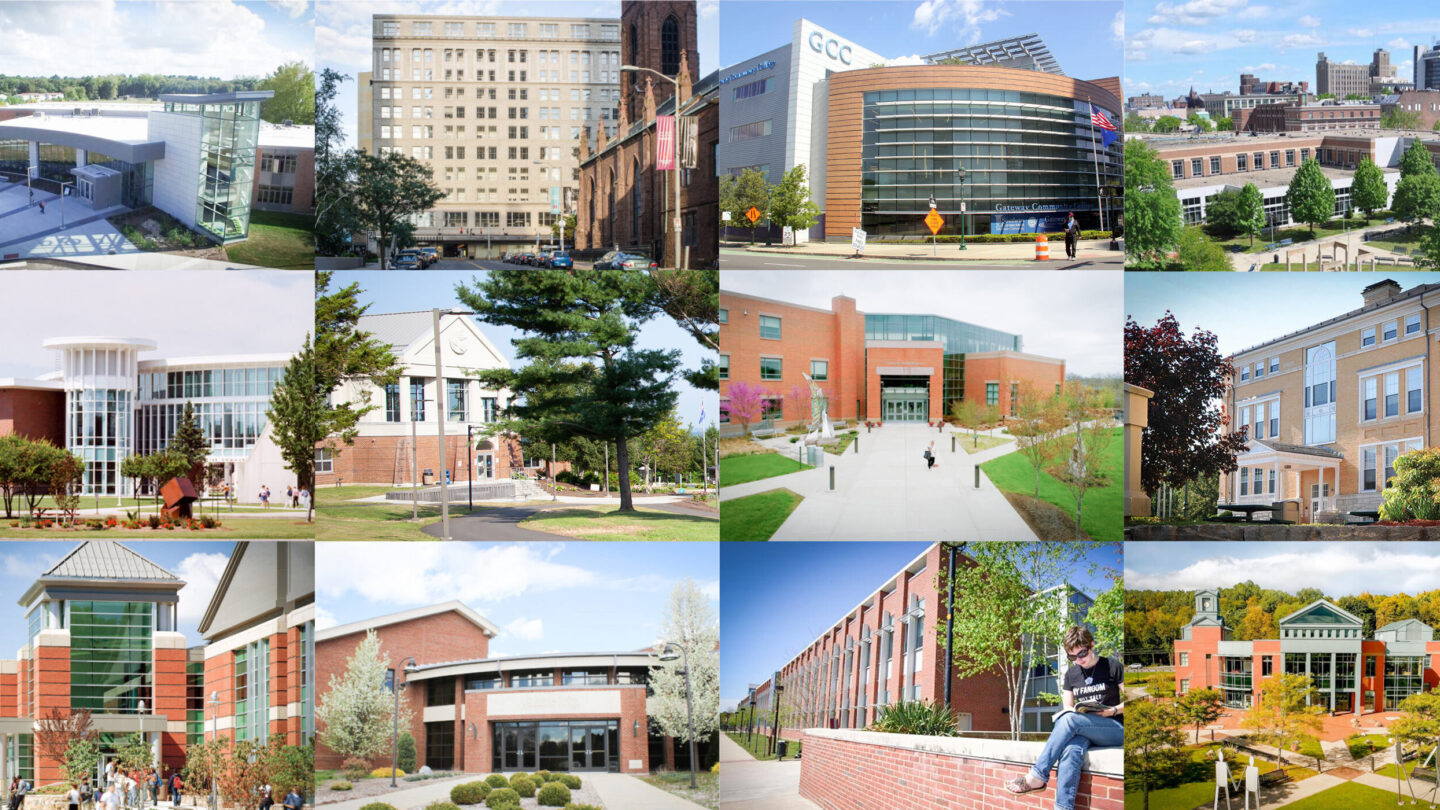 Interested in touring one of our campuses?
Choose the campus of your choice from the list below and follow the instructions to get started!

There are many ways to explore Asnuntuck! Visit ACC at 170 Elm St. in Enfield Monday thru Friday 8:30 a.m. to 5:00 p.m., no appointment required or join us for a virtual information session to hear general information about the College and learn about the enrollment process.
If you prefer to make an appointment, please complete the brief intake form here and an Admissions staff member will confirm your appointment request. In-person visitors are encouraged to enter the College through the front main entrance next to the glass tower and check in with security upon entering the building. Parking is free and visitors can park anywhere around the building. Masks are currently optional while on campus. For College delays and closings, please visit asnuntuck.edu or call 860-253-3000 the morning of your appointment.
If you are interested in only touring our Advanced Manufacturing Technology Center (AMTC), tours are offered regularly on a walk-in basis Thursday and Friday mornings from 8:30 a.m. to 10:30 a.m. in the AMTC. If you need to schedule a different time to tour the AMTC, please complete the intake form below or you may directly contact the Manufacturing department at: as-manufacturing@asnuntuck.edu
Visitors and prospective students, as well as school staff members seeking to schedule a group visit to campus for students, should complete the intake form here to request an appointment.
Please contact Admissions at 203-332-8513 to schedule a campus tour.


Guided group tours are available, as well as self-guided tours. Upon arriving to campus, stop into the Admissions Office (SSC L156) to receive a campus map. We'll gladly point out specific areas on campus based on your interests.
For more information, email mthomas@manchestercc.edu.
Interested in taking a tour of MxCC's Middletown Campus? Sign up to take a guided tour, led by our Enrollment Services staff.
Visitors with questions about our campus may email MX-EnrollmentServices@mxcc.edu.

Waterbury Campus
All in-person information sessions are held in Technology Hall at 750 Chase Parkway, Waterbury, CT. We recommend you use the east entrance for easy access and convenient parking. 

Questions? Please contact Blayre Millo at bmillo@nv.edu.
Las sesiones de español están disponibles bajo petición. Puede contactar Blayre Millo a bmillo@nv.edu.
Danbury Campus
In-person and virtual information sessions available! For in-person tours, please remember masks are required. Questions? Please contact Jeanette DeJesus at JDeJesus@nv.edu.
You can visit us on 119 N. Main Street in Winsted, CT, in the Greenwoods building (Suite 219). Masks are optional.

If you have questions, you can email us at admissions@nwcc.edu or request a phone/video call with a Northwestern staff member here!
Free parking is conveniently located in the Greenwoods Hall parking lot at 119 North Main Street, Winsted, CT. Check out our campus map.
*Pre-registration for tours is REQUIRED*
As you consider where to pursue your educational goals, we invite you to visit our campus and learn more about our programs.
Our tours begin at the Office of Admissions in Greenwoods Hall (119 North Main Street, Winsted, CT). A student tour guide will meet you for a walking tour of our campus and provide information about the application process, campus life, and our academic programs. Please call 866-526-6008 to register for a tour or submit a request through the "Tour the NCCC Campus" button above.
Tour Details
We are offering campus tours at 1 pm, the first Wednesday of every month and at 3 pm, the last Wednesday of every month.
Email us to register for a tour

Norwalk Community College offers all parents and prospective students an opportunity to tour the college throughout the semester. Visitors will be guided around both the West and East campuses, while learning about the numerous programs and services available at NCC. The following tours are available during the semester:
Campus tour dates and times are subject to change without notice.
Additional dates will continually be added every semester.
All tours begin at the NCC Admissions Office on the East Campus and no reservations are required.
Meet with the Admissions Team at the Danielson Campus to learn all about QVCC and the benefits of attending community college. Learn about QVCC's programs, how to enroll, cost savings and more. This is a great opportunity to ask questions and learn more.
All tours are on the first Wednesday of each month at 5:00 pm. Meet at the Student Success Center. Application help and financial aid assistance available.
Campus tours are offered to individuals on a weekly basis; please allow one week to schedule a tour. Group tours can also be arranged.
You can contact us directly at admissions@threerivers.edu, 860-215-9020 or make an appointment to meet with an Admissions representative at www.threerivers.edu/appointments.
For specific Nursing and Certified Clinical Medical Assistant Questions:
Join our knowledgeable student staff on a tour around campus. Participants will learn about the college's facilities, student life, culture on campus, and programs offered at Tunxis. Stops will be made at student-focused locations across campus. Find upcoming campus tours here.