CT State Community College Receives National Award for Exemplary Practices in Leadership Academy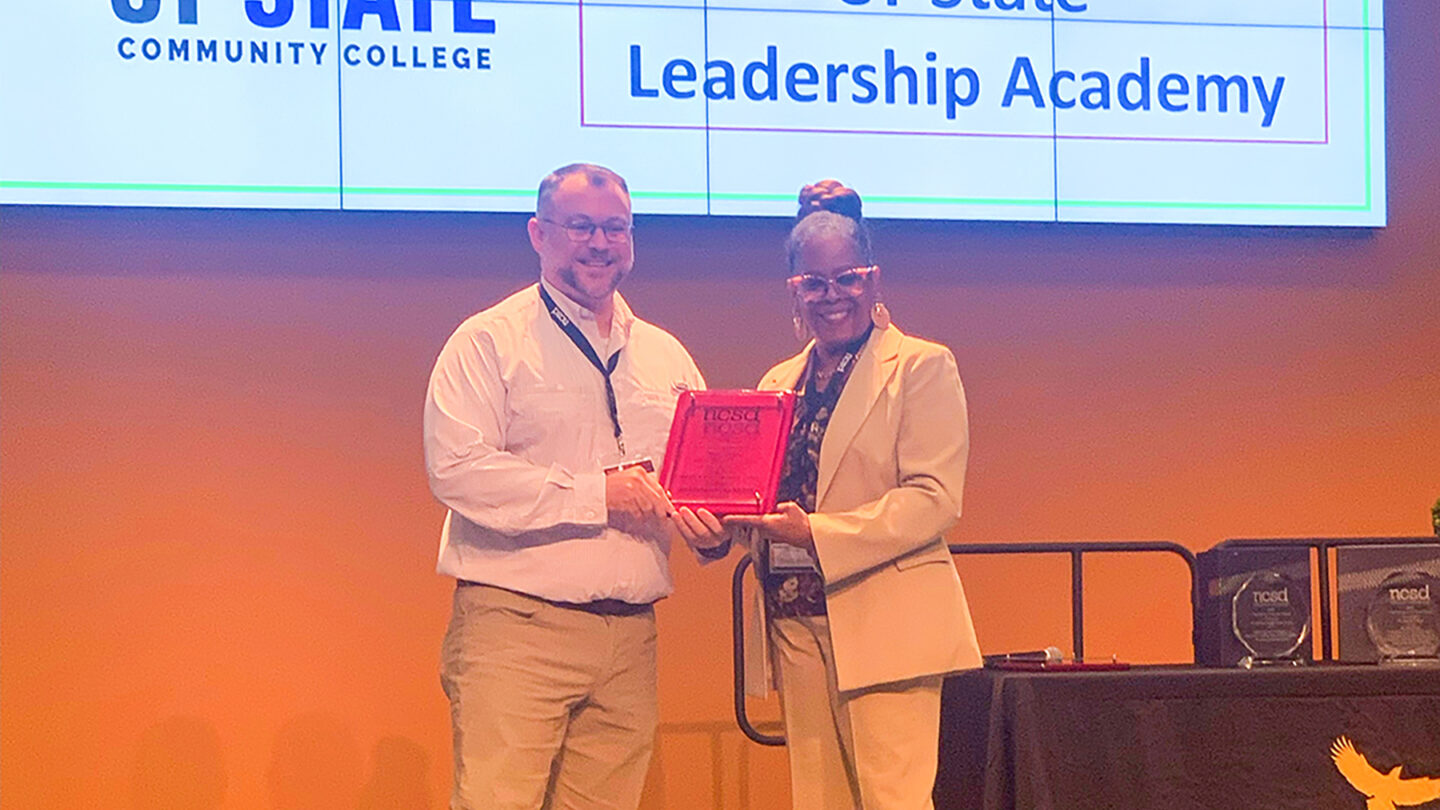 CT State Community College (CT State) received the 2023 Dr. Terry O'Banion Shared Journey Exemplary Practice Award—Gold from the National Council on Student Development (NCSD) at its annual conference on October 20 for innovative and exemplary practices of its Leadership Academy.  
The Terry O'Banion Shared Journey Exemplary Practice Award acknowledges CT State's work in the development of leaders who are equipped to support student success and advance student development in community colleges.  
"This recognition is a reflection of our collective commitment to shaping impactful leaders dedicated to student success," said CT State President John Maduko, M.D.  "We share this honor with everyone who has contributed to the growth and success of our college, especially Dr. Forrest Helvie for his stellar leadership and vision for our Leadership Academy. We look forward to continuing this journey of inspiring leadership and excellence." 
Through a special application process, nominees present details of an existing or new program including goals, implementation approaches, and outcomes. Only the most outstanding proposals are selected and designated as Gold, Silver and Bronze recipients. Programs bestowed these awards are deemed outstanding because they are highly innovative, model best practices in the field, and provide compelling evidence of effectiveness over time, according to NCSD.   
The Leadership Academy's tailored multitiered curriculum provides customized leadership development at different career stages and levels. The programs are accessible in a hybrid format, include a formal mentorship program, and build in ongoing innovation based on participants' feedback.  
More than 100 administrators, faculty and staff participated in the academy's first year, which centered on topics related to strategic planning, data-driven decision making, change management, and other higher education leadership topics. The program was created with open education resources and available learning supports at almost no cost to CT State.  
"By strengthening the leadership pipeline at all levels, the CT Leadership Academy enhances succession planning and talent development, empowers leaders to align organizational priorities with institutional goals, and cultivates an adaptive culture poised to address future challenges," said Helvie, CT State interim director of professional development, who designed the program with academic leaders, administrators, faculty and staff from campuses across CT State, as well as feedback from focus groups and surveys.  
The Terry O'Banion Shared Journey Exemplary Practice Award is named after the past president of the League for Innovation in the Community College and one of the most recognized and esteemed leaders of student development in higher education in the United States, according to the NCSD website.   
Founded in 2021, the Leadership Academy was created to provide sustainable leadership development for the long-term growth and success of the CT State Community College system. The National Organization for Student Success also recognized the Leadership Academy earlier this year with its National Program of Promise Award for outstanding work in supporting student success through the development of faculty, staff, and administrators within institutions of higher education.  
About CT State  
With the merger of the 12 Connecticut community colleges on July 1, CT State Community College is now the largest community college in New England, enrolling approximately 25 percent of college students in Connecticut. As the most affordable college in CT, CT State is dedicated to making quality education accessible to all in a supportive and inclusive learning environment. CT State students benefit from a streamlined financial aid process and apply once to take classes at any campus. The campuses—Asnuntuck (Enfield), Capital (Hartford), Gateway (New Haven and North Haven), Housatonic (Bridgeport), Manchester, Middlesex (Middletown and Meriden), Naugatuck Valley (Waterbury and Danbury), Northwestern (Winsted), Norwalk, Quinebaug Valley (Danielson and Willimantic), Three Rivers (Norwich), and Tunxis (Farmington)—form a network that empowers students to tailor their educational journey to their needs. CT State's central office is located in New Britain.