CT State Gateway Professor Qualifies as Finalist in U.S. Automotive Tech National Championship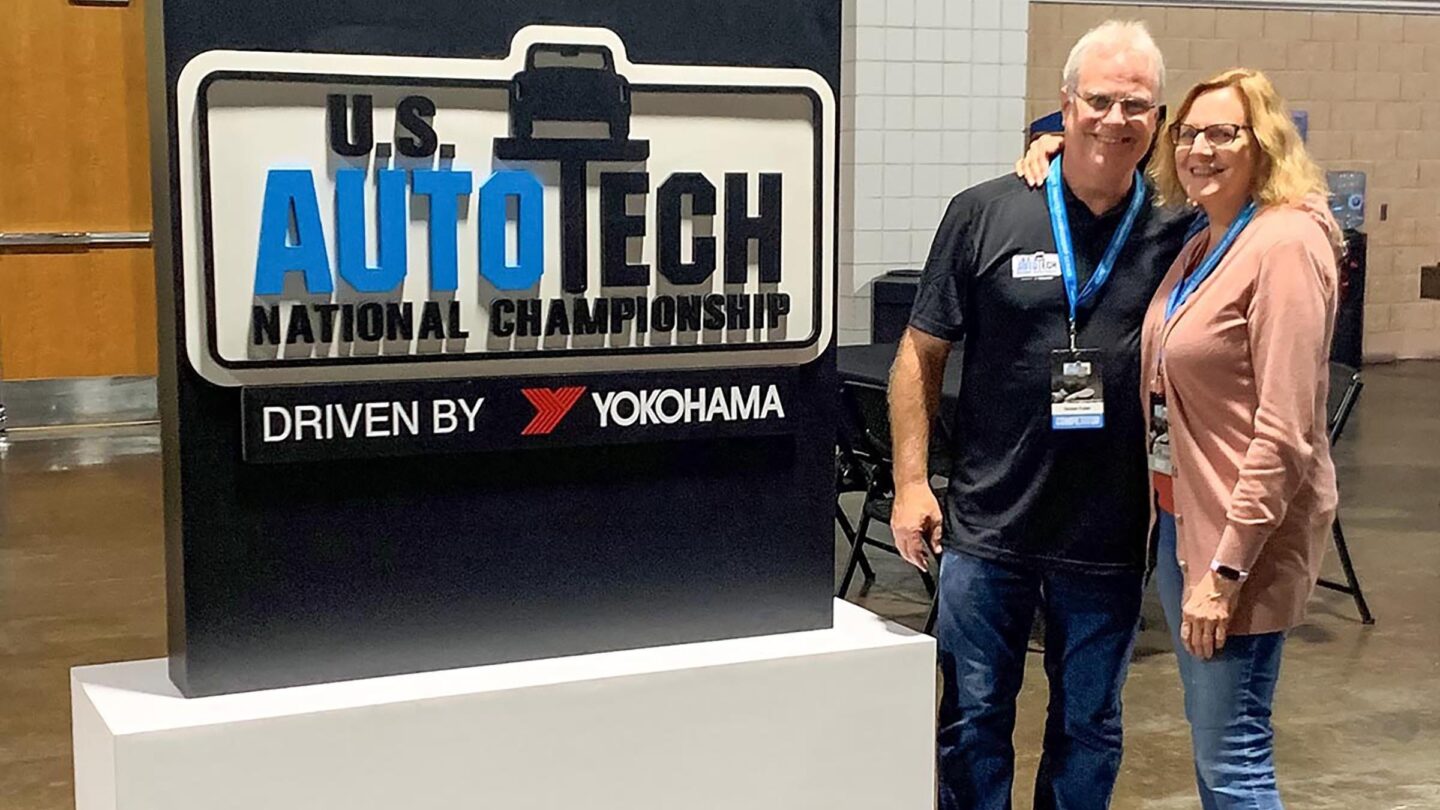 Dan Fuller, professor and automotive technology chair at CT State Community College (CT State) Gateway, emerged as one of four professional automotive finalists nationally to compete in the U.S. Automotive Tech National Championship finals. The finals took place on October 26 in Tampa, FL.  
To secure his spot in the championship, Fuller navigated through two digital challenges and a hands-on, at-home kit, competing against other professionals from across the nation. Monthly selections were made based on quiz scores and qualifying times, leading Fuller to the ultimate showdown in Tampa. 
In the championship round, Fuller showcased his industry knowledge by going head-to-head with three other contestants, as he rebuilt and replaced portions of a vehicle within a challenging three-hour time frame. 
"We are immensely proud that Dan qualified as one of the four elite professionals in the nation, a testament to not only his technical skills and knowledge but also the passion and commitment he brings to shaping the future of automotive education at CT State Gateway," said Scott Kalicki, Ph.D., CT State Gateway campus CEO. 
"I was thrilled to be among the four professionals to make it through all the rounds and into the finals," said Fuller. "The four of us had no idea what challenges we would find in the final round," he continued, noting the physically demanding tasks involved. "It was about 20 hours' worth of good old-fashioned steering and suspension work on older, difficult vehicles."  
The championship results will be revealed when the competition airs on CBS Sports Network on Friday, December 22, at 8 p.m. ET. 
Fuller, who resides in Southbury and has worked at Gateway for the past 13 years, is an alumnus of Greater New Haven State Technical College, later known as Gateway.  
Among his accomplishments, Fuller was one of six people nationwide to be inducted into the inaugural Automotive Service Excellence (ASE) President's Club in 2023, which honors those industry experts who have been certified in every one of ASE's 50 certification areas. He was also named ASE/Motor Age Magazine's "Technician of the Year" in 2012.  
Fuller was named 2017 Faculty of the Year by Gateway, where he has led enrollment growth for the automotive program. With a 20-year tenure at General Motors Corporation, he brings years of industry experience to his teaching and leadership role at CT State Gateway. Fuller holds a bachelor's degree from Excelsior College and attended Keller Graduate School of Management.  
The U.S. Auto Tech National Championship Driven by Yokohama was created in 2021 to showcase the skills of auto technician professionals and students across the country, while elevating the awareness and importance of trade jobs across the globe. Winners receive cash prizes, with the 2023 U.S. Auto Tech National Champion to be crowned during the CBS Sports Network broadcast. 
CT State Gateway's automotive program, sponsored by multiple auto manufacturers, offers students an education, specialized manufacturer training, and dealer sponsorship. With a focus on the latest technologies that simulate the dealership setting, students spend three days a week in a paid internship at a dealership and take classes two days a week at Gateway's North Haven campus. For more information, email dfuller@gatewayct.edu.  
About CT State   
With the merger of the 12 Connecticut community colleges on July 1, CT State Community College is now the largest community college in New England, enrolling approximately 25 percent of college students in Connecticut. As the most affordable college in CT, CT State is dedicated to making quality education accessible to all in a supportive and inclusive learning environment. CT State students benefit from a streamlined financial aid process and apply once to take classes at any campus. The campuses—Asnuntuck (Enfield), Capital (Hartford), Gateway (New Haven and North Haven), Housatonic (Bridgeport), Manchester, Middlesex (Middletown and Meriden), Naugatuck Valley (Waterbury and Danbury), Northwestern (Winsted), Norwalk, Quinebaug Valley (Danielson and Willimantic), Three Rivers (Norwich), and Tunxis (Farmington)—form a network that empowers students to tailor their educational journey to their needs. CT State's central office is located in New Britain.