Three Rivers Fall 2022 Dean's List Announced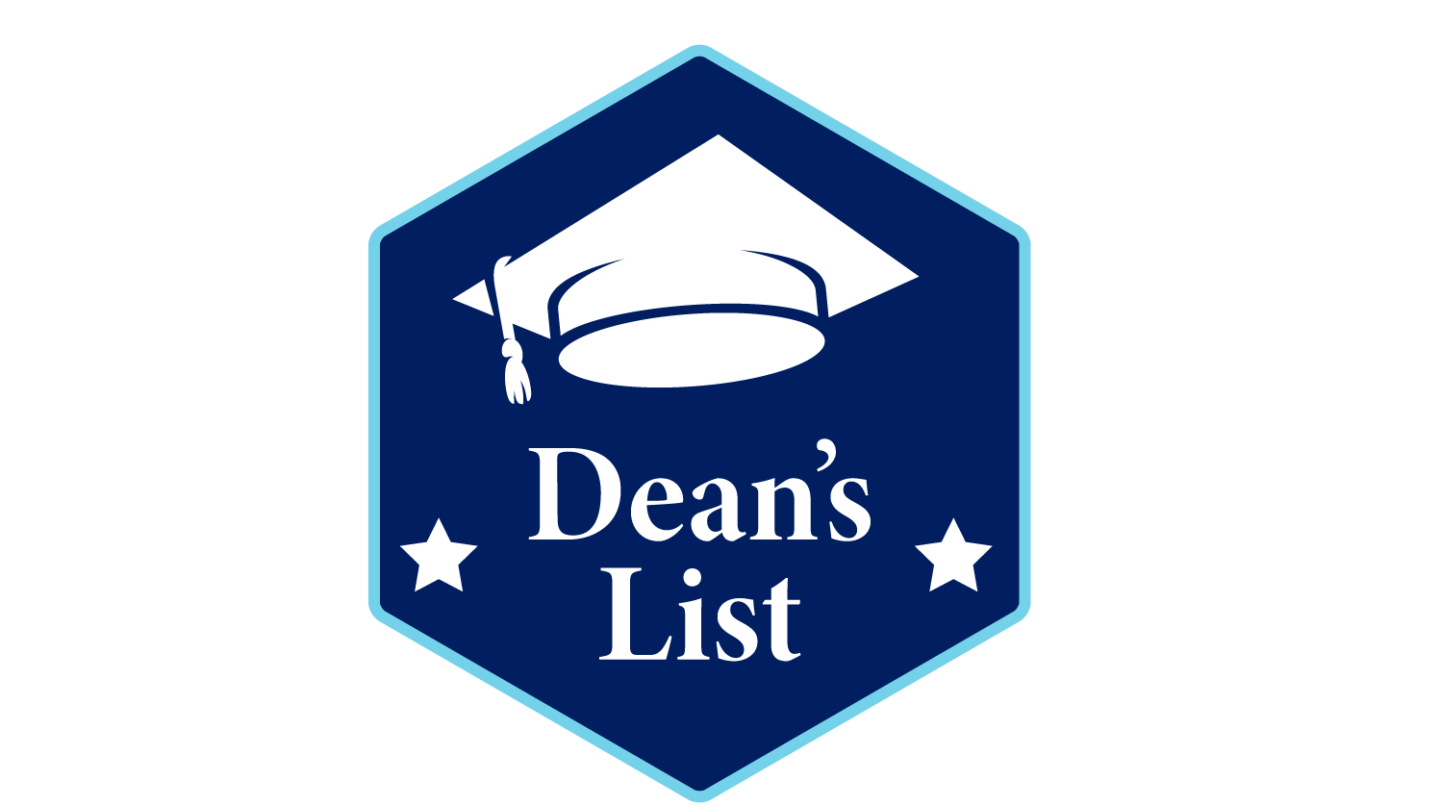 Three Rivers Community College is pleased to release the Fall 2022 Dean's List for publication. Students earn their place on the Dean's List by receiving a 3.4 or higher grade point average based on a minimum of 12 credit hours.
The list of names is listed below in order by last name.
| | | |
| --- | --- | --- |
| Name | City | State |
| Hailey Abate | Bozrah | CT |
| Peyton Adams | Canterbury | CT |
| Willow Alexander-Mackin | Griswold | CT |
| Marian Alvarez | Groton | CT |
| Eric Anderson | Groton | CT |
| Alexandrea Andrews | Mystic | CT |
| Caitlyn Anton | East Lyme | CT |
| Gabriel Arevalo | Quaker Hill | CT |
| Maria Arizaga | New London | CT |
| Shannon Armstead | Mystic | CT |
| James Arnold | Jewett City | CT |
| Zhane Ashford | East Lyme | CT |
| Thomas Ashton | Oakdale | CT |
| Zunera Asif | Old Lyme | CT |
| Dominique Aviles | Norwich | CT |
| Patricia Monique Avisan | Norwich | CT |
| Emma Ayala | East Lyme | CT |
| Gwendolyn Badillo | Uncasville | CT |
| Joshua Baird | Jewett City | CT |
| Davina Banks | Groton | CT |
| April Beckwith | Lebanon | CT |
| Eric Belske | Putnam | CT |
| Tiffany Bemis | Mystic | CT |
| Matthew Benda | Preston | CT |
| Brooke Benedict | Hampton | CT |
| Kyle Benito | Hampton | CT |
| Yulianie Berrios Saez | New London | CT |
| Olivia Bessette | Oneco | CT |
| Jesse Bisunia | Groton | CT |
| Nevaeh Blakes | New London | CT |
| Jacinta Blanchette | Lisbon | CT |
| Patrick Bogan JR | Groton | CT |
| Tamara Boisvert | Columbia | CT |
| Noelle Boles | Groton | CT |
| Christopher Boling | Griswold | CT |
| Justin Bonosconi | East Lyme | CT |
| Chriselle Booc | Groton | CT |
| Chloe Boucher | Preston | CT |
| Briana Brady | Plymouth | CT |
| Julia Breen | Norwich | CT |
| Emily Brennan | Commack | NY |
| Gavin Bridgham | Voluntown | CT |
| Rebecca Brock | Pawcatuck | CT |
| Victoria Broughton | Waterford | CT |
| Jamaal Bruzual | Norwich | CT |
| Stephanie Bryan | Norwich | CT |
| Michael John Bucoy | Waterford | CT |
| Grace Bufmack | Mystic | CT |
| Chandra Burton | Chester | CT |
| Skyleen Busanet | Willimantic | CT |
| Lourdes Caguana | Norwich | CT |
| Angelina Caminati | Colchester | CT |
| Corbin Capone | Colchester | CT |
| Ashlynn Carroll | Groton | CT |
| Nyila Carter | Norwich | CT |
| Lily Cartier | Mystic | CT |
| Melanie Cento | Groton | CT |
| Faith Cervera | Waterford | CT |
| Sophie Chamberlain | Lisbon | CT |
| Aubrey Chambers | New London | CT |
| Matthew Chant | Waterford | CT |
| Simon Chapple | Waterford | CT |
| Sandy Chen-Ruan | Norwich | CT |
| Philip Chopak | Yonkers | NY |
| Jack Ciaglo | Colchester | CT |
| Keagan Cicardo | Yantic | CT |
| Megan Civitello | Norwich | CT |
| Allison Clark | Willington | CT |
| Andrew Clark | Quaker Hill | CT |
| Zachary Clark | North Franklin | CT |
| Amy Clarke | Norwich | CT |
| Jacob Cohoon | Griswold | CT |
| Emma Cote | Norwich | CT |
| Heather Craven | Norwich | CT |
| Kerrie Craven | Preston | CT |
| MinaBella Crouch | Baltic | CT |
| Gabriela Cruz Velasquez | Groton | CT |
| Sarah Cruz Velasquez | Oakdale | CT |
| Corri Cummings | Columbia | CT |
| Samuel Curcuro | Ledyard | CT |
| Kyle Cutler | Mystic | CT |
| Lexi Cwynar | Norwich | CT |
| Mallory Cyr | Canterbury | CT |
| Andrea Da Dalt | Mystic | CT |
| Rebecca Danila | Woodstock | CT |
| Avery Dauplaise | Norwich | CT |
| Ada Davila-Rosario | Waterford | CT |
| Christopher Day | Gales Ferry | CT |
| Antonio DeCosta | Groton | CT |
| Minely Dejesus | Norwich | CT |
| Ashley Delaney | Colchester | CT |
| Kathleen Delaney | Peabody | MA |
| Darielys Delgado Rivera | Willimantic | CT |
| Derek Denis | North Franklin | CT |
| Gloria Depasquale | Ledyard | CT |
| Corey Detscher | Groton | CT |
| Gracie Deveny | Chaplin | CT |
| Cris Dias | Norwich | CT |
| Riley Dickson | Deep River | CT |
| Savannah Dickson | Southington | CT |
| Stephen Dodson | Norwich | CT |
| Victoria Domkowski | Middletown | CT |
| Tsering Dorjee | Uncasville | CT |
| Olivia Doyle | Griswold | CT |
| Kayla Draddy | Mystic | CT |
| Anslie Dybala | Groton | CT |
| Benjamin England | Groton | CT |
| Tessa Fadden | Bozrah | CT |
| Dina Fares | Groton | CT |
| Hannah Farquhar | Groton | CT |
| Emily Farrington | Colchester | CT |
| Marisa Field | Groton | CT |
| Jonathan Fitzpatrick | Plainfield | CT |
| Cristian Flores | Norwich | CT |
| Karissa Fontaine | Norwich | CT |
| Lillyana Fort-Liss | Uncasville | CT |
| Jacob Fox | Chaplin | CT |
| Zachary Fox | Chaplin | CT |
| Justine France | Lebanon | CT |
| Garvin Francois | New London | CT |
| Cooper Frank | Mystic | CT |
| Mary Frank | Mystic | CT |
| Valerie Fredell | Groton | CT |
| Brieanna Fuentes | Norwich | CT |
| Tenisha Gagne | Norwich | CT |
| Baylee Gagnier | Oakdale | CT |
| Joshua Gannotti | North Stonington | CT |
| Mellisa Gardner | East Lyme | CT |
| Gabrielle Garvin Corey | Groton | CT |
| Arianna Gauthier | Preston | CT |
| Serenity Gerhart | Ivoryton | CT |
| Natalie Gill | Norwich | CT |
| William Girard | Colchester | CT |
| Barbara Glinka | Stamford | CT |
| Shelby Lyn Gomes | Voluntown | CT |
| Josiah Gonzalez | Hampton | CT |
| Kimberly Gonzalez | Willimantic | CT |
| Benjamin Gordon | Ledyard | CT |
| Jessica Goulart | Oneco | CT |
| Brianna Graham | Voluntown | CT |
| Moniece Grandy | Norwich | CT |
| Benjamin Grant | Niantic | CT |
| Devin Greene | Westerly | RI |
| Benjamin Grottole | Colchester | CT |
| Mykayla Guimond | Preston | CT |
| Kevin Guinan | Colchester | CT |
| Fadi Hage Jr. | Waterford | CT |
| Danielle Haggan | Gales Ferry | CT |
| Kevin Harrell | Norwich | CT |
| Ethan Hasson | North Franklin | CT |
| Linya He | Uncasville | CT |
| Anna Hebert | Norwich | CT |
| Mariana Hensell | Norwich | CT |
| Qing Hensley | North Stonington | CT |
| Ryan Hewett | Andover | CT |
| Christopher Hinson | Groton | CT |
| Niurka Hiraldo-Rivera | Norwich | CT |
| John Hoult | Waterford | CT |
| Trevor Howard | Colchester | CT |
| Tammy Howe | Willimantic | CT |
| Pedro Huaman | Norwich | CT |
| Mia Hughley | Uncasville | CT |
| Eugene Im | Groton | CT |
| Erika Isabel-Cruz | Norwich | CT |
| Meghann Isbell | Gales Ferry | CT |
| Sheenkai Jabary | North Windham | CT |
| Aubree Jay | Groton | CT |
| Kayci Johnson | Montville | CT |
| Lauren Johnson | Willimantic | CT |
| Kathrine Jones | Ledyard | CT |
| Safi Kachmar | Norwich | CT |
| Bridget Keller | Norwich | CT |
| Michael Kelly | Waterford | CT |
| Mohammad Khan | Niantic | CT |
| Jae Seung Kim | Uncasville | CT |
| Nathaniel Kimpan | Mystic | CT |
| Brianna King | Windham | CT |
| Gabbriella King | Windham | CT |
| Benjamin Kinnie | Griswold | CT |
| Austin Kliphon | Gales Ferry | CT |
| Carla Koeser | White Plains | NY |
| Shawn Kornichuk | New London | CT |
| Benjamin Korytkowski | Canterbury | CT |
| Connor Kuenneke | Mystic | CT |
| Andrew Kunze | Clinton | CT |
| Lisa Kutneski | Plainfield | CT |
| Hunter Lacerte | North Stonington | CT |
| Lisha Lachney | Norwich | CT |
| Bethany Lacy-Lebiszczak | Colchester | CT |
| Harry Lai | Uncasville | CT |
| Coen Laibrandt | Lebanon | CT |
| Rachel Lake | Groton | CT |
| Tara Laliberte | Plainfield | CT |
| Jennifer Lavoie | Voluntown | CT |
| Julia Lebitz | Griswold | CT |
| Heather LeClair | Norwich | CT |
| Jonathan Ley | Plainfield | CT |
| Yanli Li | Norwich | CT |
| Zhao Heng Li | Norwich | CT |
| Emmyline Lind | New London | CT |
| Taylin Littlefield | Jewett City | CT |
| Dana Lively | Norwich | CT |
| Emma Longton | Norwich | CT |
| Katie Lozier | Ledyard | CT |
| Heather Lussier | Norwich | CT |
| Rebecca Lussier | Canterbury | CT |
| Coty Maccracken | Jewett City | CT |
| Katie MacLean | Lebanon | CT |
| Sara Magnuson | Columbia | CT |
| Stephanie Maiolo | Groton | CT |
| Daniel Manter | Niantic | CT |
| Julia Maranzano | Gales Ferry | CT |
| Christina Marotti | Wallingford | CT |
| Julie Marr | Groton | CT |
| Tracy Marr | Groton | CT |
| Rebecca Marsh | Griswold | CT |
| Bonnie Martin | Gales Ferry | CT |
| David Martinez | Canterbury | CT |
| Dominic Martinez | Gales Ferry | CT |
| Paige Matherne | Niantic | CT |
| Tyler Mathiasen | East Haddam | CT |
| Franklin May | Jewett City | CT |
| James Mayo | Vernon Rockville | CT |
| Jessica Mazerolle | Niantic | CT |
| Pinky Mazibuko | New London | CT |
| Sunitta McCarthy | Colchester | CT |
| Meghan McCoy | Niantic | CT |
| Kayli McMahon | Waterford | CT |
| Donald Mellon | Waterford | CT |
| Brianna Mendez | Uncasville | CT |
| Hyrum Merkley | Waterford | CT |
| Jarred Michon | Oakdale | CT |
| Luke Michon | Oakdale | CT |
| Ethan Miller | Norwich | CT |
| Jackson Miller | Norwich | CT |
| Vicki Miller | Colchester | CT |
| Daylen Miner | Baltic | CT |
| Zackary Mingo | Bozrah | CT |
| Korrin Minter | Preston | CT |
| Zachary Moore | Moosup | CT |
| Anthony Moreshead | Waterford | CT |
| Thomas Moriarty | Norwich | CT |
| Samantha Morrissey | Quaker Hill | CT |
| DeeAnn Morton | Uncasville | CT |
| Lily Morton | Griswold | CT |
| Owen Muche | Mystic | CT |
| Julian Muntimuri | Ledyard | CT |
| Jillian Murallo | Uncasville | CT |
| Ghulam Mustafa | Pawcatuck | CT |
| Elyce Nadeau | Norwich | CT |
| Sophia Naragon | Preston | CT |
| Beludji Narcisse | Norwich | CT |
| Patrick Nazim | Chicopee | MA |
| Fabiana Negron | Willimantic | CT |
| Stephanie Nehme | Niantic | CT |
| Shonda Northup | Ledyard | CT |
| Michael O Gara | North Stonington | CT |
| Thomas O'Connor | Preston | CT |
| Hope O'Lari | Voluntown | CT |
| Hannah Olesen | Taftville | CT |
| Kerian Ortiz Velazquez | North Windham | CT |
| Russell Pajor | Colchester | CT |
| Madison Pallas | Andover | CT |
| Nicole Palmer | Norwich | CT |
| Jason Palomino | Ledyard | CT |
| Ryleigh Pappas | Preston | CT |
| Dustin Paquette | Colchester | CT |
| Cassandra Parma | East Lyme | CT |
| Nikhil Patel | Mystic | CT |
| Emma Paulhus | Columbia | CT |
| Delaney Peabody | Salem | CT |
| Cierra Peaslee | Wauregan | CT |
| Allison Peloquin | Griswold | CT |
| Autumn Pepin | Jewett City | CT |
| Marieliz Perez | Norwich | CT |
| Austin Perkett | North Grosvenordale | CT |
| Lucia Perry | Norwich | CT |
| Charles Persi | Waterford | CT |
| Jonnathan Pesantez | Pawcatuck | CT |
| Nicholas Piciw | Shelton | CT |
| Dante Pimental | Groton | CT |
| Felicia Pinkham | New London | CT |
| Andrew Pires | Columbia | CT |
| Danesha Pontes | Willimantic | CT |
| Ashley Price | Salem | CT |
| Sarah Price | Plainfield | CT |
| Victoria Puapuaga | Willimantic | CT |
| Janel Putz | Colchester | CT |
| Karol Puyo | New London | CT |
| Sencere Rabel | Norwich | CT |
| Tyler Radford | Uncasville | CT |
| Robert Randall | Norwich | CT |
| Nicole Rapp | Groton | CT |
| Joseph Reilly | Naugatuck | CT |
| Katie Reinhart | Pawcatuck | CT |
| Jayvin Repil | Oakdale | CT |
| Rodolfo Reyes | Oakdale | CT |
| Calvin Reynoso | Waterford | CT |
| Brianna Rich | New London | CT |
| Max Richardson | Groton | CT |
| Keiry Rivas | Norwich | CT |
| Keishla Rodriguez | Norwich | CT |
| Amy Rood | North Windham | CT |
| Ariana Rosado | Waterford | CT |
| Ashley Roselund | Waterford | CT |
| Samantha Round | North Stonington | CT |
| Jared Rouse | Norwich | CT |
| Arianna Rudko | Colchester | CT |
| Andrew Ruffo | Norwich | CT |
| Jackie Salter | Voluntown | CT |
| Keaton Sanborn | Pawcatuck | CT |
| Sarah Sauceda | San Diego | CA |
| Jacob Sawicki | Middle Haddam | CT |
| Alexander Sawyer | Griswold | CT |
| Emma Schafer | Norwich | CT |
| Jacob Schlauder | Stonington | CT |
| Rhiannon Schmidt | Canterbury | CT |
| Adam Schumacher | Norwich | CT |
| Rachael Scovish | Oakdale | CT |
| Samantha Seddon | Oakdale | CT |
| Madison Selander | Groton | CT |
| Mikayla Senkewitcz | Waterford | CT |
| Rylee Sfakios | North Windham | CT |
| Michelle Shaw | North Stonington | CT |
| Jake Shumbo | Colchester | CT |
| Sherily Sierra | Norwich | CT |
| Samuel Sims | East Lyme | CT |
| Ryder Singer-Johnson | Niantic | CT |
| Bailey Slocum | Stonington | CT |
| Aryssa Smith | Jewett City | CT |
| Caleb Smith | Salem | CT |
| Chloe Smith | Oakdale | CT |
| Jennifer Snyder | Colchester | CT |
| Vanessa Sotelo | Gales Ferry | CT |
| Cameron Sousa | Groton | CT |
| Promise Spada | Mystic | CT |
| Meghan Speers | Old Lyme | CT |
| Rebecca Spera | Pawcatuck | CT |
| Albert Speziali II | East Lyme | CT |
| Samrin Akhter Sristy | Norwich | CT |
| Asher St George-Crouch | Ledyard | CT |
| Sandra St Germain | Baltic | CT |
| Jaizier St Hilaire | New London | CT |
| Amanda Stanberry | Mystic | CT |
| Nicole Stands | Uncasville | CT |
| Melanie Stanley | Norwich | CT |
| Caroline Stanton | Colchester | CT |
| Matthew Stevens | Westbrook | CT |
| Carly Straub | Mystic | CT |
| Esther Stuart | Oakdale | CT |
| Kendra Studer | Pawcatuck | CT |
| Natalia Suiarkova | Barkhamsted | CT |
| Timothy Sullivan | Waterford | CT |
| Logan Swan | Norwich | CT |
| Shellyse Swift-Sammy | New London | CT |
| Kane Taber | Plainville | CT |
| Jackson Tassoni | Canterbury | CT |
| Lacey Tatro | Voluntown | CT |
| Alli Teti | Groton | CT |
| Leah Thomas | Mystic | CT |
| Jennifer Timmons | Colchester | CT |
| Ankush Tolani | Jewett City | CT |
| Abigail Toof | Voluntown | CT |
| Herminia Torre | North Stonington | CT |
| Brianna Torres | New London | CT |
| Yvette Torvisco | Norwich | CT |
| Sierra Tylaska | Preston | CT |
| Marisa Vacca | Pawcatuck | CT |
| Destiny Valeza-Velez | Norwich | CT |
| Nicholas Vanasse | East Lyme | CT |
| Hannah VanDevander | Pawcatuck | CT |
| Elena Vasquez | New London | CT |
| Ernest Kyle Victorino | Mystic | CT |
| Robert Vose | Waterford | CT |
| Kylee Waite | New London | CT |
| Natalie Wallace | East Lyme | CT |
| Liam Ward | Waterford | CT |
| Meagan Warner | New London | CT |
| Cayden Washko | Storrs | CT |
| Brianna Waters | Colchester | CT |
| Marissa Waters | Norwich | CT |
| Kayleigh Watson | Oakdale | CT |
| James Weitlauf | Mystic | CT |
| Elysse Wenc | Waterford | CT |
| Gabrielle Wheeler | Ledyard | CT |
| Jason Whitford | Groton | CT |
| Mariel Willbanks | Old Saybrook | CT |
| Caroline Willis | Gales Ferry | CT |
| Cody Woodcock | Colchester | CT |
| Robin Wright | Preston | CT |
| David Wrinn | Colchester | CT |
| Evan Zach | Danielson | CT |
| Alisson Zelaya | New London | CT |