The following are archived communications from President Maduko to the CT State community.
Dear Colleagues and Friends,
The end of the spring semester and the beginning of summer is always a time of excitement and change. Let me get right to updating you on a series of news items across CT State.
I am pleased to announce that I have selected Kim Hogan as the permanent CEO of Middlesex Community College. Ms. Hogan has served as interim CEO since April 2022 and prior to that was its Dean of Administration. Her commitment to the campus and Middlesex community is unmatched. I will share a more detailed congratulatory announcement separately.
Next, today we say "See You Soon" (not good-bye) to Dr. Dwayne Smith on his last day as CEO of Housatonic Community College. Tomorrow, he begins as the interim President of Southern Connecticut State University. We wish him nothing but the best and we know that he will continue to be a strong partner and champion for our scholars.
Dr. William "Terry" Brown shared with his campus community earlier today that he will be stepping down as Gateway's CEO to accept a position as part of the Strategic Partnership & Enterprise Performance division serving all of CT State Community College. This division is under Executive Vice President Dr. Thomas Coley and includes grant administration and development, institutional effectiveness and strategic partnerships around advancement, business and industry, and P-20 initiatives that support collaboration between college-level academics, K-12 and workforce training.
In the interim, I have tapped Dr. Scott Kalicki to step in at Gateway. Dr. Kalicki previously served as interim CEO at Manchester Community College, and currently serves as the interim Vice President of Campus Operations for CT State. He will provide leadership and stability while the search for a permanent CEO takes place.
Both the Gateway and Housatonic permanent CEO searches will commence in the Fall 2023 semester. I will announce my selection of the interim Housatonic CEO once final internal candidate interviews are completed.
Other important updates:
We anticipate that we will successfully close out the 2022-2023 academic year this summer in time for the US Department of Education to complete our transition to one college in time for Fall 2023 with minimal disruption to student financial aid.
Our final report to NECHE will be filed tomorrow, June 1 and will be posted at: https://www.ct.edu/merger/neche. The September 2022 and February 2023 reports and our Substantive Change Report are also viewable here. President Terrence Cheng and I, and CT State executive leadership will meet in person with NECHE leadership in mid-June.
Budget Town Halls have taken place at 10 campuses so far. These have been extremely beneficial for me to connect directly with faculty and staff on our budget deficit mitigation efforts, and also to continue to gain insight into campus priorities that directly impact my decision-making.
Finally, as I mentioned in my May 1 President's Post, we have instituted a modified hiring process that will be in place until it is determined where we land with the FY24 budget. In the meantime, the current process to review and approve positions that are ready to fill AND fall within priority areas listed has been expanded to include part-time and temporary personnel requests, including non-credit lecturers, across the college. That was followed by specific guidance documents available here: https://www.ct.edu/hr/forms#hiring . New and modified guidance continues to be developed.
Personnel requests will continue to be reviewed and signed-off on by the campus CEOs/Presidents or CT State Vice President before they reach final approval. Therefore, critical vacancies and hires will be identified and prioritized. Requests to Fill (RTF) positions are considered on a weekly basis.
As a reminder, these are our priority areas:
Teaching and Learning
Student Support Services
Diversity, Equity, Inclusion, and Belonging Commitments
Campus and Public Safety
Physical Plant and Technological Infrastructure
Sincerely,
John Maduko, M.D. (he/him/his)
President
Connecticut State Community College
Dear Colleagues and Friends,
With our commencement ceremonies and celebrations of student success complete, we can look back on this week and this year with a sense of pride that the efforts of our faculty, staff, and leaders manifested into life-changing opportunities for our students. Now, we must collectively look forward to the horizon of a soon-to-be statewide community college.
To that end, I am excited to share with you that CT State is beginning to build our own Division of Human Resources.
The first step is to bring in experts to help us to assess our needs. We are contracting with the American Association of State Colleges and Universities (AASCU), a non-profit membership organization established in 1951 to support public colleges and universities to strengthen academic quality, promote access and inclusion, and facilitate educational innovation.
Beginning this summer, AASCU will help us to map out CT State's transformational and operational initiatives by assessing our organizational design and culture, process evaluation, design, and areas for improvement.
In addition, we will soon embark on a national search to identify CT State's inaugural Vice President of Human Resources, who will report to me and lead this new division, which will include a dedicated Human Resources Generalist on every campus and will determine the most logical infrastructure for HR functions and payroll.
As AASCU does its work, I will appreciate your cooperation and input. There will be many opportunities to provide feedback and ideas. Please take advantage of this process and help us to build a division that, above all else, serves our valued faculty and staff in the best way possible.
This initiative reflects my commitment since joining CT State almost exactly one year ago to do what is best for us as one college and to align with the demands of our campuses. Our Division of Human Resources will exemplify excellence in all operations, actions, and interactions to consistently meet and exceed the needs of our community of educators, professionals, and leaders. This is one of many exciting foundational components that will shape the future of Connecticut State Community College.
Sincerely,
John Maduko, M.D. (he/him/his)
President
Connecticut State Community College
Dear Colleagues and Friends,

Today I write to provide updates on our state biennial budget and how you can continue to help with advocacy.
Budget Outlook
As was shared in CSCU President Cheng's message to the entire CSCU system, should the state budget as it is currently proposed become law, it would force the issue of layoffs to 650 full-time faculty and staff and eliminate nearly 3,000 part-time positions. This would harm students, harm the state's workforce, and harm communities.
In the Fall of 2022, CSCU directed institutional leaders and their chief financial officers to develop budget mitigation plans in the event of a substantial shortfall. Through a collaborative process with campus leaders, draft scenarios were created to envision scenarios for revenue-generating and achieving savings in the state-funded and tuition/fee-supported portions of our operating budget. Implementation strategies will determine if the increased revenues and cost-cutting measures would need to be continuous over future academic years to produce tangible results.
Grounded by our shared commitment to protecting our core mission, CT State's highest priorities align with the following areas:
Teaching and Learning
Student Support Services
Diversity, Equity, Inclusion, and Belonging Commitments
Campus and Public Safety
Physical Plant and Technological Infrastructure
CT State initiated a comprehensive budget development process with campus leaders in late February. Through guidance and partnership with our central office and campus leaders, we are deliberating the necessary steps to maintain our current level of services across our legacy campuses and satellite locations.
Where do we go from here?
Although the administration and campus officials may be asked to answer questions about the current state of affairs regarding the proposed biennial budget, the main focus now is on the FY24 budget deliberations that will continue throughout May at the state Capitol. I and President Cheng continue to engage with local and statewide elected officials to garner support to increase the proposed Appropriations budget. I encourage all who are Connecticut residents to advocate to your elected representatives for our system's critical needs. Contact information for state elected officials is attached.
After the state budget has been approved - likely by the end of the legislative session on June 7th - CSCU and all member institutions including CT State will receive our FY24 budget allocation. CT State leaders will work to develop a balanced budget that preserves our core mission and recommend it to the Board of Regents for consideration and adoption in June. In response to the CT General Assembly's Appropriations Committee budget proposal, CT State and other CSCU institutions have submitted the required updated budget mitigation plans and forecasts to President Cheng's office so that a complete estimate of CSCU's fiscal projections and shortfalls can be calculated.
Staffing and Operations
On April 24th, the CT State central office instituted a modified hiring process that will be in place until it is determined where we land with the FY24 budget. In the meantime, the current process to review and approve positions that are ready to fill AND fall within the priority areas listed above will expand to include part-time and temporary personnel requests across the college. Grant-funded positions will be part of the review but will receive special consideration. Personnel requests will continue to be reviewed and signed-off on by the campus CEOs/Presidents or CT State Vice President before they reach final approval. Therefore, critical vacancies and hires will be identified and prioritized. Requests to Fill (RTF) positions are considered on a weekly basis.
More guidance is forthcoming. In the meantime, specific questions can be sent to CTState-RTF@commnet.edu.
CSCU Day of Action at the State Capital
Thursday, April 27 was the Day of Action at the state Capitol, where CEOs, faculty, staff and students from across our campuses, the four state universities and Charter Oak State College turned out to talk directly with legislators about the current budget proposal. Our representatives were receptive to our messages, and our Government Relations staff feels that the day demonstrated the urgency and breadth of impact that the budget shortfall would have.
A proposed second Day of Action on May 4 will not take place.
Thank you to everyone for your advocacy, not just at the Day of Action but every day. Our collective voices will be what makes the difference.
Finally, and importantly, please be on the lookout for continued announcements from CT State and my office, new developments, and additional opportunities for faculty, staff, and students to lend their voice to our needs. Despite this somber news, May represents the end of a fruitful and meaningful journey for our soon-to-be graduates. Commencement events remind us of our world-class faculty and staff's expertise, support, and sacrifices that will propel our students toward their post-graduate success.
I look forward to celebrating graduation ceremonies with you as we recognize our graduates and all members of the CT State Community.
Sincerely,
John Maduko, M.D. (he/him/his)
President
Connecticut State Community College
Good Morning,
In just under a year of working together, Dr. Dwayne Smith has stood out as an exemplary leader. As CEO of Housatonic Community College, he believes deeply that higher education has the potential to serve as one of society's greatest drivers of equity, and he holds the responsibility of educating our students with the utmost seriousness.
Today, I am writing to share with the CT State community that beginning June 1, Dr. Dwayne Smith will assume the role of interim president of Southern Connecticut State University. I could not be happier for my colleague and friend.
As I said in my message last week, we are an organization under development, which is exciting and challenging. It can feel like the wheels of change never stop turning. I will work closely with HCC campus leaders and community stakeholders on a transitional and a permanent leadership plan for Housatonic. Dr. Smith and I are also committed to a successful wrap-up to the spring semester. I plan to spend extra time on the Housatonic campus to be sure I am as tuned-in and accessible as possible during the transition, and to help on-board whomever the next leader of Housatonic will be.
In the meantime, I want to use this space to highlight the ways that Dr. Smith has served Housatonic and CT State so well.
Since 2020, Dr. Smith has served as CEO of Housatonic Community College where he has brought unparalleled energy and passion to the job, immersing himself in the greater Bridgeport community and tirelessly advocating for the campus and its students. I have also been impressed with his work on academic affairs, student support services, external advancement and fundraising.
In the last three years, HCC has been awarded $1 million in federal funding to support the college's Advanced Manufacturing Technology Center, $1.3 million for college students affected by the pandemic, and support from local foundations including KeyBank and Patriot Bank to support student economic and food security. His advocacy also made possible a $1 million private gift to launch of Werth Center for Innovation and Entrepreneurship Center. In addition, HCC's Equity Project was launched with a personal $10,000 commitment from Dr. Smith to aid under-resourced scholars. Following his lead, individuals, foundations, and companies became donors and the fund now exceeds $400,000.
Dwayne is known for engagement with the community and students, often volunteering at local non-profits and serving on nine boards in the region to support philanthropy, workforce development, mental health, economic and educational endeavors. He also started the first ever HCC podcast series called The Journey: Stories of Triumph. As a distinguished higher education leader, he was honored at the 100 Men of Color Awards in June 2021, and was named among the NAACPs 100 Most Influential Blacks in Connecticut.
I will of course be sad to lose him at Housatonic, but I know he will serve the state and the CSCU system well in the role of interim president at Southern. SCSU's current president, Dr. Joe Bertolino, has accepted a new position as president of Stockton University in New Jersey.
I am heartened to know that Dr. Smith will be close-by in New Haven, helping the relationship between the community colleges and SCSU to thrive and setting an example for the rest of the state.
In partnership and with gratitude,
John Maduko, M.D. (he/him/his)
Connecticut State Community College
Dear Colleagues and Friends,
We are an organization under development, which is exciting and challenging. As your president, I am constantly gathering input and assessing what is in the best interest of CT State, and, how best to allocate resources to meet the needs of our students first and the organization. I am writing to share some recent changes that illustrate CT State's efforts to optimize its organizational operating structure.
We are in the midst of a transitional period during which a number of organizational adaptations are being considered so that by the end of the Spring 2023 semester I can share a clear vision with you.
In the meantime, Executive Vice President of Strategic Partnerships and Enterprise Performance Dr. Thomas Coley has assumed temporarily oversight over Workforce and Economic Development. Interim Vice President for Campus Operations Dr. Scott Kalicki temporarily oversees Dr. Michael Buccilli and the division of Student Success Management, which includes Guided Pathways Advising.
CT State has eliminated the positions of Executive Vice President for Workforce and Economic Development and Executive Vice President of College Services and Student Affairs. Those who previously held these roles include Dr. James Lombella who has moved on to new opportunities, and Dr. Robert Steinmetz who continues to provide support and work for the institution.
Public Safety and Emergency Preparedness led by CT State Chief of Police Chris Chute has moved permanently within the division of Finance and Administration under Vice President Kerry Kelley. In January, Chief Chute was sworn in as our inaugural police chief during a ceremony hosted at Naugatuck Valley Community College that drew law enforcement leadership from across the state and within the CSCU system. Efforts are underway to expand capacity in public safety so that each campus has the resources and staff it needs to keep our students, faculty, staff, and visitors safe.
In February, we announced that we are expanding mental health services to every campus by adding seven full-time, licensed counselors, exemplifying our commitment to expanding and improving student services.
In early March, many faculty, staff and students took the opportunity to meet the five finalists for CT State Provost. These higher education leaders each spent the day in Connecticut as part of their vetting process and each would bring a unique perspective and experience as our chief academic officer. I will be announcing my selection within the next two weeks.
As detailed in my 100 Day Report, my decisions are based on the needs of our students, campuses, and surrounding communities. We will continue the path toward stabilizing, building, and thriving by finding a balance between local autonomy and statewide standardization, while collaborating through a lens of equity and inclusion. My vision continues to be shaped by regular campus visits, welcoming and respecting authentic feedback and recommendations from our campus communities, and ongoing input from all of you.
We must never stop recognizing what a vibrant, diverse, and integral part of our communities we are. As we continue to work through the changes related to becoming one college, it can feel like the wheels of change never stop turning. Nevertheless, we must adapt to meet the demands of the evolving higher education landscape, and demonstrate a commitment to responsible resource allocation.
In partnership and with gratitude,
John Maduko, M.D. (he/him/his)
Connecticut State Community College
Dear Students, Colleagues and Friends,
Our national and local news has been flooded with video of the deplorable and inhumane killing of Tyre Nichols, which was released last Friday by the Memphis, Tennessee, police department officials.
Our condolences to the family and community of Tyre Nichols. As we grapple with the images of Mr. Nichols' death at the hands of local law enforcement, we struggle to understand how these officers can ignore all dignity and respect for life and the law. The five police officers were terminated, and the police department was arrested and charged with murder. We await the criminal justice system to apply justice in this case.
I am disheartened and livid by this horrific killing; but sadly not shocked, instead numb to this reality in our communities. Unfortunately, we are well versed in recent and past fatal incidents to others that have taken place across our country. Systemic and historical racism and discrimination toward communities of color continue to be prevalent.
Already reeling from this tragedy, we continue to witness violence and discrimination towards our Asian American and Pacific Islander communities, most recently in California, specifically in Monterey Park, CA, which is only 6 miles from my hometown of San Gabriel. I share the fatigue, anger, and dissolution of processing these deaths and the need to speak about the most unthinkable. Just one of the unsettling facts to come out of the Memphis killing is that one of the now former Memphis officers, Desmond Mills Jr. graduated from Bloomfield (CT) High School in 2008.
CT State Police Chief Chris Chute, who spent his career rising from patrolman to Chief of Police with the city of New Britain, shared these thoughts:
"The tragic death of Tyre Nichols is horrific and unforgivable. Upon learning of Mr. Nichols death and subsequently watching of the body camera video makes me sick to my stomach," Chute said. Not only were the actions taken by the officers appalling, the failure of anyone to intervene in the matter was inexcusable. These former officers have broken the sacred oath of their office and shocked the conscience of the people across the country."
"The members of the Connecticut State Community College law enforcement team condemn the actions taken by these officers. We are committed to treating everyone with dignity and respect. Safety and security are the top priorities of the service we provide to our students, staff, and faculty. Our condolences and deepest sympathy go out to the family of Mr. Nichols," he said.
Where do we go from here? For now, please take care of yourself, your wellness, and those you care about. People are grieving and processing all of this, so we respect the time needed to cope. We are here for you, and CT State Community College and 12 legacy community colleges will always advocate for equity and justice.
We recognize that you may find yourself in a caretaking role, supporting your peers, classmates, and friends while also seeking to care for your own needs. Thank you for the compassion and empathy you extend to others, yet we recognize the mental, emotional, and physical toll this can have on anyone.
If you find yourself needing to talk to someone, please take advantage of services available. Faculty and staff can access mental health services via our Employee Assistance Program as part of your HR benefits. Students have access to on-campus mental health counseling as well as telehealth mental health service through CT State's TimelyCare MD site or app.
Suppose you wish to get involved as an agent of social change? In that case, there is an array of campus, community, state, and national organizations working towards system reform as CT State will look to continue to pursue social change through our mechanism and external levels of influence.
Management and Confidential Employees: Take this as a reminder from me to register for the mandatory training "Managing a Diverse Workforce: Moving from Compliance towards Equity and Inclusion." Contact Nick D'Agostino, CSCU Director of EEO for a full schedule. A renewed focus on our training, engagement and policy efforts around racial justice will be forthcoming.
We continue to work on ourselves through training, awareness and accountability. Equity is a series of marathons, but it is a road worth taking.
In partnership and with gratitude,
John Maduko, M.D. (he/him/his)
Connecticut State Community College
Happy Wednesday!
One of my favorite parts of being CT State's President or any of my previous roles at colleges around the country has been interacting with students. It just wouldn't feel like a new semester or a new year any other way. This first full week of the Spring 2023 semester, I am visiting as many campuses as I can – despite Winter's sudden descent upon us!
I am also excited to share with you my Welcome Back message to students.
The video message below is being sent this week by text and email directly to students and will be shared on our websites and social media.
Wishing you all a productive, safe and successful Spring '23.
In partnership and with gratitude,
John Maduko, M.D. (he/him/his)
Connecticut State Community College
Happy Friday!
One of the pillars of my 100 Day Report and my vision for CT State is bolstering campus support and infrastructure. Moving that vision forward includes introducing the inaugural CT State Chief of Police.
Christopher Chute began today as CT State's Chief of Police and Director of Public Safety. While a formal swearing-in was required on his first day (depicted below, left, with the oath being delivered by State's Attorney Christian Watson of New Britain, right), a public swearing-in ceremony will take place on Wednesday, Jan. 18 at 11 AM, hosted by Naugatuck Valley Community College in Waterbury. Faculty, staff, students, community leaders and chiefs of police and law enforcement from across the state are invited to attend.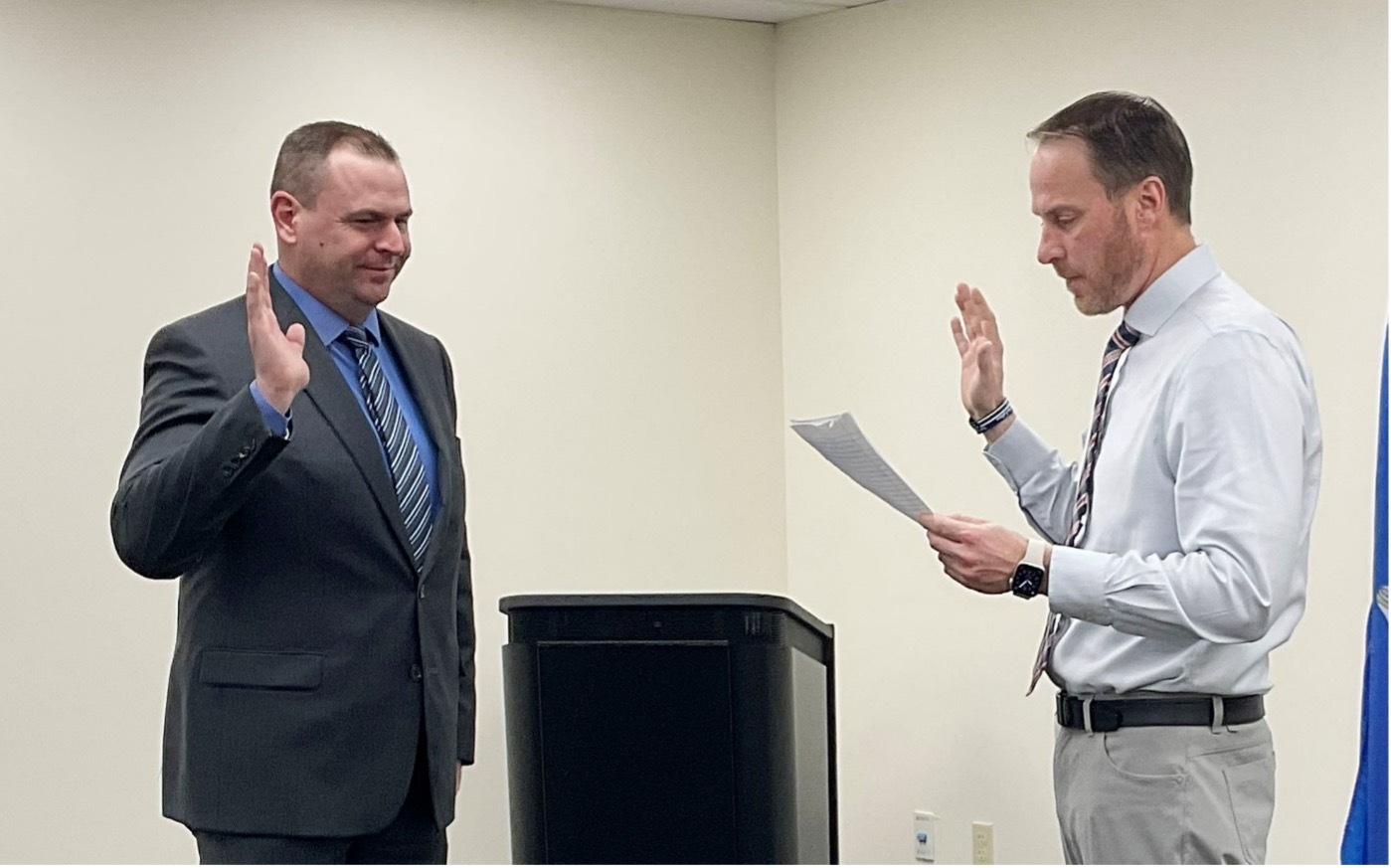 The Chief of Police and Director of Public Safety is expected to provide for the public safety and quality of campus life for students, faculty, staff and visitors to CT State. He is responsible for supervising and administering activities pertaining to the sworn policing, public safety and the security of students, employees and property of CT State Community College and its campuses.
Chief Chute comes to CT State after most recently serving as the chief of police for the City of New Britain, where he began as a patrol officer in 1996. His appointment will help to steward our goals of long-term investment in equitable campus security, routine emergency preparedness training for all employees, and practical communications standards.
Chief Chute can be reached directly at cchute@comment.edu.
In partnership and with gratitude,
John Maduko, M.D. (he/him/his)
Connecticut State Community College
We start the week with an exciting step forward for Connecticut State Community College – the results of the Statewide Governance Elections. Shared governance is a milestone in our development as a single, united institution. It provides a method for communication, collaboration and mutual accountability between administration, faculty, staff and students, and it will unequivocally advance excellence in the operation of the one college.
Thank you to everyone who took time to vote or nominated themselves. Close to 800 votes were cast statewide for Congress and Senate, which is in addition to votes that were cast locally for campus bodies. The results can be found here and also on the CT State Governance webpage, which also holds a thorough explanation of shared governance at CT State.
On a different and tragic note, we offer our condolences to the family, friends and colleagues of State Representative Quintin "Q" Williams of Middletown who passed away in an automobile accident last week. Representative Williams was an ardent supporter of Middlesex Community College and had been selected as their commencement speaker in 2021. He was respected and admired and will be greatly missed.
In partnership and with gratitude,
John Maduko, M.D. (he/him/his)
Connecticut State Community College
As we begin the New Year, we are reminded of the passing of time, the value of service and the impact that our faculty and staff have on our students and the communities where we live.

Over the holiday break, Gateway Community College faculty member and North Haven firefighter Matthias "Matt" Wirtz was killed in the line of duty.
He served as an Educational Assistant for the Fire Science Fundamentals of Firefighting program at Gateway and had been a part of the program since its inception in 2013. Prior to that, he was an instructor for the North Haven Fire Department's training program which became Gateway's Fire Science Program. He helped train new firefighter, EMT and nursing students who have gone on to serve across the state.
As Gateway CEO William Brown stated: "His commitment to Fire Service, our community and the students who are becoming the future of the Fire Service was unwavering."
Matt began his career as a volunteer firefighter in North Haven before becoming a member of the North Haven municipal department. He became certified as a Fire Service Instructor so that he could teach new firefighters while continuing his career. Matt was among many Connecticut firefighters who responded to Ground Zero on 9/11 and 9/12/2001.
We send Matt's wife, Barbara, and his entire family our thoughts, prayers and gratitude for being part of Gateway and CT State. We also thank Governor Lamont for the show of respect by ordering flags to be lowered to half-mast until Matt's internment, which took place on Jan. 3 with full departmental honors. Those wishing to do so may send a contribution in Matt's name to the North Haven Professional Firefighters Charitable Association, PO Box 191, North Haven, CT 06473.
In partnership and with gratitude,
John Maduko, M.D. (he/him/his)
President
Connecticut State Community College
Dear CT State Community,

Today's post is all about Governance. A milestone in our development as a single, united institution is the ability to stand-up a method for communication, collaboration, and mutual accountability between administration, faculty, staff, and students which advances excellence in the operation of the one college.
I am pleased to announce that the CT State Shared Governance Model has been finalized. Nominations for campus and statewide representatives to the various governance bodies are due by Dec 9th.
I invite you to visit the CT State Governance website for details about upcoming elections to serve on College Senate, Curriculum Congress and other statewide and campus-based bodies.
Page features:
Summary of changes made to the model in response to feedback gathered since the Nov. 10th "Governance Overview" webinar
Instructions for campus and statewide nominations and elections
Nominations due by Dec. 9, 2022
Elections due by Dec 23, 2022
Updated list of Statewide Discipline Councils (SDCs)
Recommended Additional Responsibility (AR) & Release Time (RT)
Governance Transition Timeline & Scheduling Details
Spring 2023 Meeting Schedule for Shared Governance
Example Timeline for Curriculum Proposals
To help you better understand the recent changes to the governance model and the transition timeline over the next few months, Interim Provost & VP of Academic Affairs Miah LaPierre Dreger also recorded a new webinar for the governance site to download or watch at a convenient time: CT State Shared Governance - Summary of Changes & Transition Timeline.
Many thanks for the cooperation and leadership of faculty and staff on each campus.
I also want to thank everyone who attended the first Governance webinar on Nov. 10 and who submitted feedback immediately after. Your input directly impacted the model we have today. Check out the page to see exactly what changes were made and for more resources.
In partnership,
John Maduko, M.D. (he/him/his)
Connecticut State Community College
Greetings:

This week's tragedy at the University of Virginia has rocked the UVA community, higher education, Virginia, and the entire nation. We are heartbroken to learn of the senseless death of three UVA student-athletes and of those who were wounded. Our thoughts and condolences are with the victims' families, the University of Virginia community members, and the surrounding Charlottesville area as they cope with the aftermath of this tragedy.
For the CT State community, I offer assurance that we are constantly working to prevent and, if necessary, respond quickly to emergencies. We have the support of campus, local, and state law enforcement agencies, ongoing attention to emergency response protocols, and support services readily available to those in need. If you have not already done so, please take a moment to reflect on how we can all create and sustain the community we deserve.
Sincerely,
John Maduko, M.D.,
President
Dear CT State Community, Greetings!
I wanted to remind you all to register for the CT State Governance Overview Informational Webinar that will be held Thursday, November 10 at 3:30-4:30 pm.
This webinar will cover the proposed governance structure for Connecticut State Community College. We will discuss how campus resolutions have helped shape the proposed structure and the importance of moving forward together. We are also making sure that we build in time to allow for feedback, which will be incorporated before any structure is finalized. The webinars are open to everyone, but registration is required for each session. You can register for the webinar at WebEx now. Also, visit CTState.edu/webinars to view previous presentations and get a list of upcoming webinars.
Thank you for all you do.
John Maduko, M.D. (he/him/his)
President
CT State Community College
Dear CT State Community, Greetings!
My first tour of all twelve colleges has come to an end just in time for my 100th day on the job, and I want to thank all of you for being such gracious hosts. The days were long and filled with meaningful interactions with students, faculty, and administration.
It was a wonderful opportunity to explore the different college campuses as well as learn more about the unique programs, facilities, student support services, and ties to the local communities that each encompasses. There is a lot of individuality in the communities we represent and support, and it is reflected in the personalities and legacies of the twelve colleges.
Many of you had concerns, both specific and broad, and I appreciate you taking the time to share them with me as well as your ideas for the future of CT State. I have brought your comments and recommendations to my Cabinet, and we are taking them all into account. I will be announcing some of the ways we've incorporated your feedback into my 100 Days Report, which will come out in November. You will also be seeing more of the entire CT State leadership and me as we establish a culture of being present by frequently visiting our campuses.
Until then, there is news to celebrate. Census numbers for the fall have arrived, and it's encouraging news. While numbers overall have decreased compared to Fall '21, we've slowed the bleeding. Full- time enrollment for all colleges is down just 1 percent compared to last Fall. This is the first year in a long time that our year-over-year enrollment hasn't fallen dramatically.
We have been living in a new reality since the beginning of the COVID-19 pandemic. Aside from the changes that the pandemic brought to pass, we are grappling with a declining birth rate, a pending recession, and lower enrollment in Connecticut public schools. Many of our students were forced to stop attending as they struggled with food, housing, childcare, and other significant insecurities during the pandemic. Taking that into account means every student we register is a victory and a life- changing opportunity.
We have made great strides in re-engaging and registering a significant number of stop-outs. Over the summer, we launched an effective campaign that reached out with postcards, digital ads, and emails. We let them know about our outstanding academic and workforce programs, flexibility, advising, financial support like scholarships and financial aid, and wrap-around services for food, housing, and childcare that we offer. We saw results through a 39% increase in enrolled re-admitted students.
Our promising registration and enrollment numbers wouldn't have happened without each of you working so hard to enroll and retain students. It's going the extra step, making that phone call or text, walking a student to the right office, and always supporting students who are the 'Why' that drives our mission. CT State cannot succeed without your passion, resilience, experience, and dedication.
Thank you for all you do.
John Maduko, M.D. (he/him/his)
President
CT State Community College
Dear CT State colleagues and friends,
As I end my first official week as President, I am overly impressed and moved by all of you and your steadfast commitment to the students and communities we serve.
It is a once in a lifetime honor to lead CT State together with each of you who unequivocally make our statewide campuses incredible destinations for learning. I have been overcome with joy and appreciation by the warm welcomes that I have received.
As I prepare to begin my college wide journey, I am planning my First 100 Days tour across all CT State locations to host a series of townhalls in early fall to meet each of you and capture your needs, philosophies, and goals for how we can build CT State's vision together. A CT State President webpage will provide a digital and interactive First 100 Days report that highlights how we engaged: number of town halls, number of campus visits/listening sessions, ideas shared, number of faculty and staff engaged, number of students engaged, meetings with elected/civic officials, number of CT State partners/friends engaged, and the total number of participants engaged.  
Inclusivity is at the core of my presidency, so your understandings and diverse experiences will be influential in guiding us through the opportunities and challenges that lie ahead of us. These include challenges brought about by the continued impact of the COVID-19 pandemic, the regional, national, and international tragedies, growing financial concerns within our communities, and the staggering workforce shortages.
While we work through these challenges, we will embrace and advance the opportunities for what will be a premier, inclusive, agile, and innovative College. From Day 1, I have been blown away by the expertise, talent, and student-centered ability of our educators, higher education practitioners, and leaders. I am grateful to be surrounded by a resilient and driven team with an acumen for dismantling outdated barriers and striving for student success reformation.
More details will come regarding the schedule of my campus tours and engagement with the campus communities and friends of CT State.
In partnership,
John Maduko, M.D.
President
CT State Community College