The federal government offers a wide variety of services to veterans through the U.S. Department of Veterans Affairs. CT State is committed to improving the resources available for student veterans on our campuses by fostering an encouraging environment to strengthen institutional and individual goals. 
About Veterans Affairs at CT STate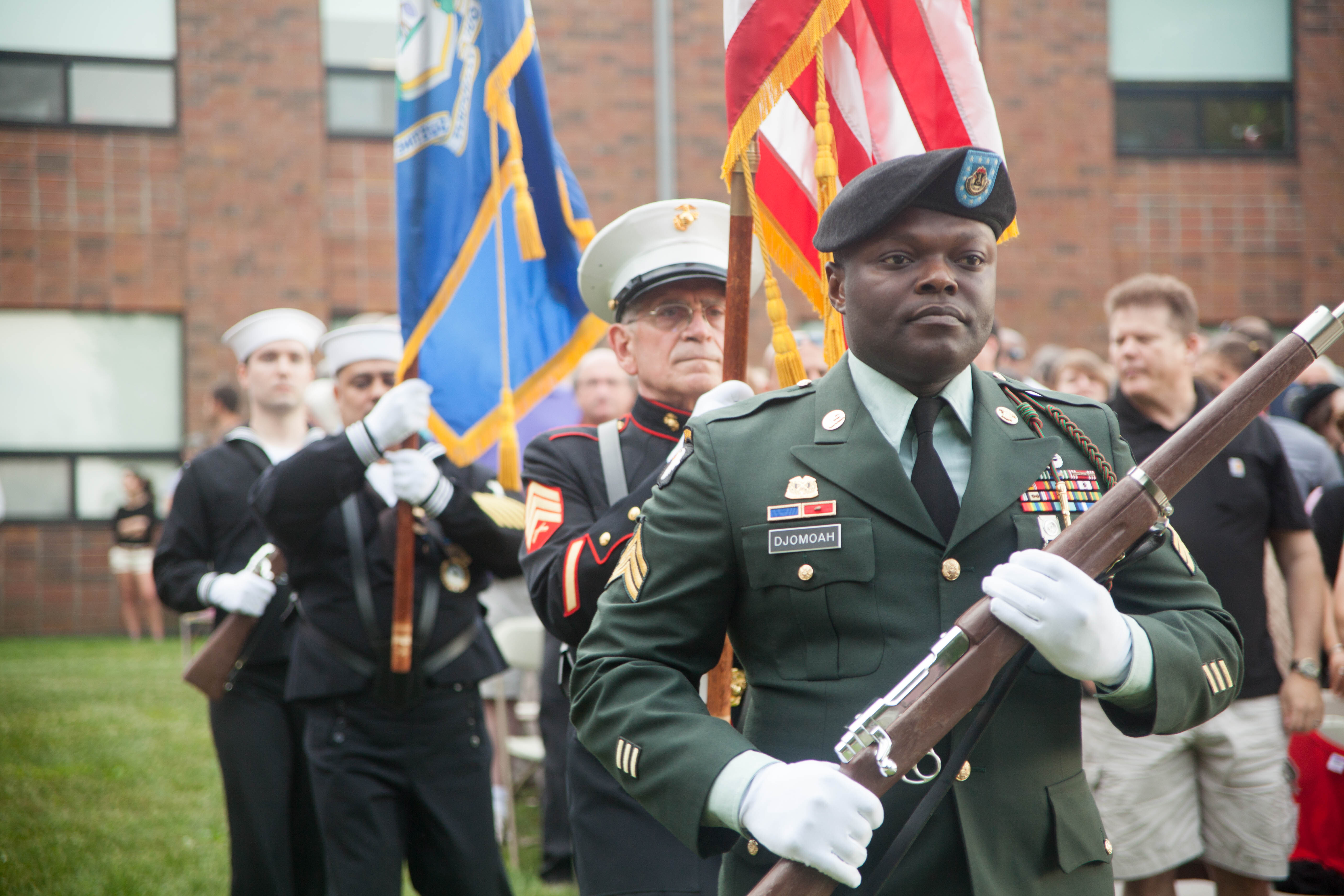 The Veterans Certifying Official can help eligible students apply for VA (Veterans Administration) benefits. You are advised to apply for veterans benefits as soon as you apply for admission to the College using this information. To be eligible for VA benefits, you must be enrolled in a degree or certificate program. Most credit programs and some non-credit programs offered by the College are eligible for VA benefits. Approved programs can be found at the CT Office of Higher Education. Once you have registered for classes and submitted your request for certification, the College will certify your enrollment to the VA. Your continued certification by the College is contingent upon meeting academic progress guidelines (please see the section below). If you are a student whose Combined Academic Standing indicates suspension you are academically ineligible to receive VA educational benefits.

If you are receiving VA benefits you must complete and submit a Certification/Enrollment Contract to your campus Certifying Official each semester and notify them of any changes in your course load and/or program of study. Courses must meet the requirements of the degree or certificate in which you or your dependent is enrolled.

Additional Information for Veterans
By Title 38 US Code 3679 subsection (e), this school adopts the following additional provisions for any students using U.S. Department of Veterans Affairs (VA) Post 9/11 G.I. Bill® (Ch. 33) or Vocational Rehabilitation and Employment (Ch. 31) benefits, while payment to the institution is pending from the VA. This school will not:

Prevent the students' enrollment; Assess a late penalty fee;
Require students secure alternative or additional funding;
Deny their access to any resources (access to classes, libraries, or other institutional facilities) available to other students who have satisfied their tuition and fee bills to the institution.
However, to qualify for this provision, such students may be required to:
Provide Chapter 33 Certificate of Eligibility (or its equivalent) or for Chapter 31, VA VR&E's contract with the school on VA Form 28-1905 by the first day of class.
Note: Chapter 33 students can register at the VA Regional Office to use E-Benefits to get the equivalent of a Chapter 33 Certificate of Eligibility. Chapter 31 students cannot get a completed VA Form 28-1905 (or any equivalent) before the VA VR&E (The Veteran Readiness and Employment) case manager issues it to the school.
Provide written request to be certified;
Provide additional information needed to properly certify the enrollment as described in other institutional policies
In addition, the VA GI Bill Comparison Tool will identify schools that have additional requirements.
U.S. Department of Veterans Affairs (VA) regulations require that all students receiving VA educational benefits meet the College's academic standing policy as stated in the CT State college catalog. Students who are suspended for failing to meet the College's academic standing policy will be reported to the VA. Students may appeal their academic suspension in accordance with CT State policy (Please see the "Academic Suspension" section of the handbook). Should the appeal be successful, the student's enrollment will be reported retroactively to VA for the enrollment period to which the appeal applies.


A waiver of general fund tuition is extended to all eligible Connecticut Veterans with service during certain wartime periods. Members of the Connecticut National Guard may also be eligible for waivers of tuition.

To be eligible for a tuition waiver, veterans must:
be honorably discharged or released under honorable conditions for active service in the U.S. Armed Forces (U.S. Army, Navy, Marine Corps, Air Force, and Coast Guard). National Guard members, activated under Title 10 of the United States Code, also are included.
have served at least 90 or more cumulative days active duty in time of war (please see Periods of Service below), except if separated from service earlier because of a federal Department of Veterans Affairs (VA) rated service-connected disability; or the war, campaign, or operation lasted less than 90 days and service was for the duration.
be accepted for admission at CT State.
be domiciled in Connecticut at the time of acceptance, which includes domicile for less than one year.
Veterans must submit their DD-214 (Discharge Papers) to their campus Certifying Official. Tuition waivers are not provided for summer sessions, winter intersessions, or credit-free courses.
Periods of Service
Only those who served in the following manner may qualify:
Active duty for at least 90 days during:
World War II Dec. 7, 1941 – Dec. 31, 1946
Korean Conflict June 27, 1950 – Jan. 31, 1955
Vietnam Era Feb. 28, 1961 – July 1, 1975
Persian Gulf War Aug. 2, 1990 – Until an ending date prescribed by Presidential proclamation or by law (no end date at this time). All military war service subsequent to August 2, 1990, is covered, including but not limited to, Enduring Freedom, Noble Eagle, Iraqi Freedom, Somalia, and Bosnia.
Engaged in combat or in a combat support role in:
Lebanon July 1, 1958 – Nov. 1, 1958, or Sept. 29, 1982 – March 30, 1984
Grenada Oct. 25, 1983 – Dec. 15, 1983
Operation Earnest Will July 24, 1987 – Aug. 1, 1990 (escort of Kuwaiti oil tankers flying the U.S. flag in the Persian Gulf)
Panama Dec. 20, 1989 – Jan. 31, 1990
Reservists must be mobilized in times of war for other than training purposes.
CT National Guard members will need to file an application with their unit before the beginning of each semester. The Certificate of Eligibility that is issued by the CT National Guard must be on file with the campus Certifying Official before the registration process can be completed. Tuition waivers are not provided for summer sessions, winter intersessions, or credit-free courses.


State statutes also provide that tuition at Connecticut public colleges and universities may be waived for:

any Connecticut resident who is a dependent child or a surviving spouse of a member of the Armed Forces killed in action on or after September 11, 2001, who was a Connecticut resident; and
state residents who are dependent children of a person whom the Armed Forces have declared to be either missing in action or a prisoner of war while serving in the Armed Forces after January 1, 1960.
Tuition waivers are for credit courses during the spring and fall semesters ONLY and are not provided for summer sessions, winter intersessions, or continuing education/credit-free courses.

College costs other than tuition - such as for books, student activity, course fees, and parking - are not waived. Waivers may also be reduced by the amount of education reimbursement you may receive from your employer.
CT State adheres to the principles outlined in the Principles of Excellence executive order.

Provide students with a personalized form covering the total cost of an education program.
Provide educational plans for all military and veteran education beneficiaries.
End fraudulent and aggressive recruiting techniques and misrepresentation.
Provide accommodations for service members and reservists absent due to service requirements.
Designate a point of contact for academic and financial advising.
Ensure accreditation of all new programs prior to enrolling students.
Align institutional refund policies with those under Title IV.
Foreign schools, high schools, on-the-job training and apprenticeship programs, residency and internship programs, and those who do not charge tuition and fees were not asked to comply with the Principles of Excellence.
The VA's Comparison tool will let you see if the school you are interested in attending participates in the Principles of Excellence program.


CT State is dedicated to supporting our military community with its transition from service members to students. Each CT state campus provides a safe space specifically for veterans to study, relax and build comradery with other student veterans. Campuses also offer information on how to access Veteran Administration benefits for all who are eligible.