Norwalk Competes in CT State's First-ever Culinary Competition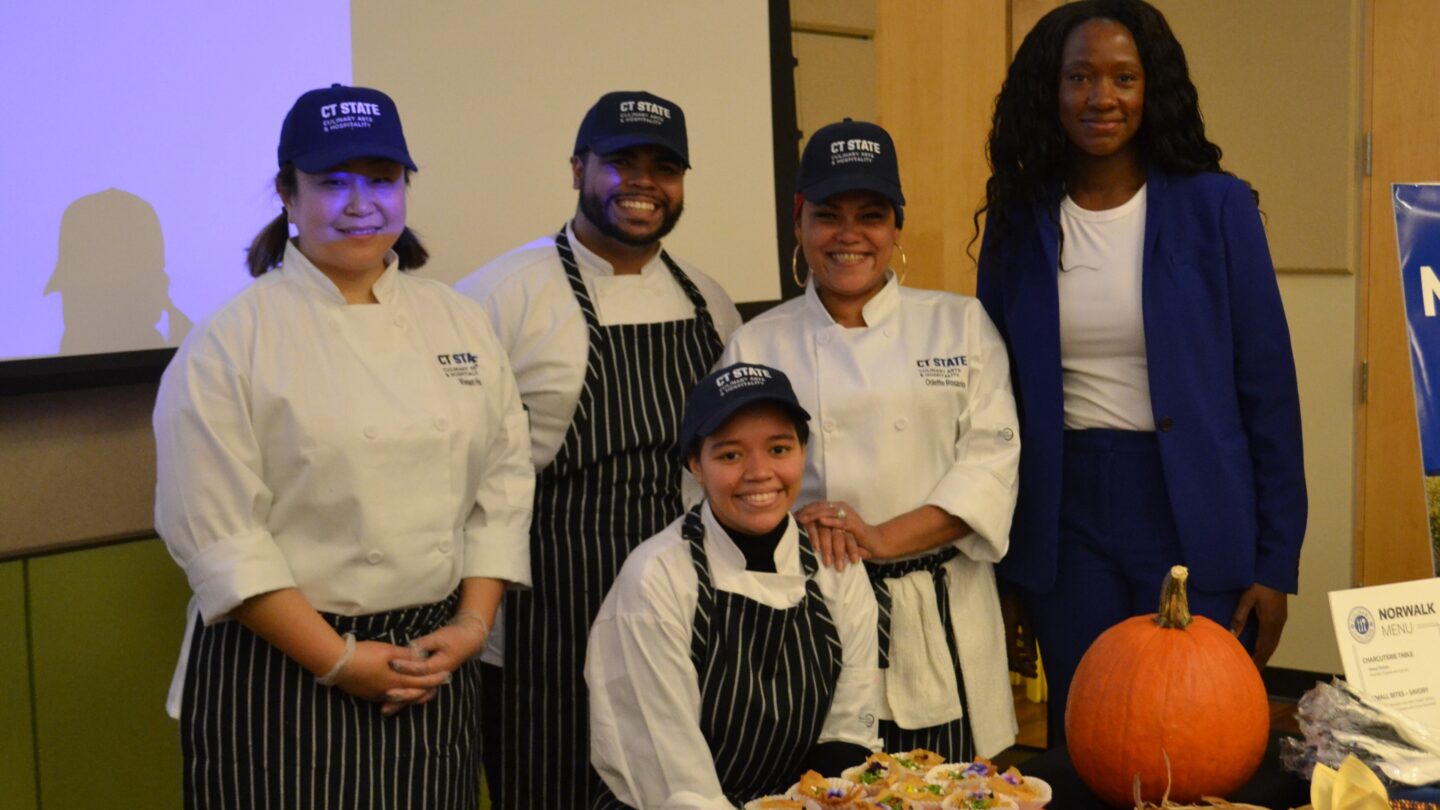 Four teams of culinary arts and hospitality students from Norwalk, Naugatuck Valley, Gateway, and Manchester Community Colleges competed in CT State's first-ever Culinary Challenge on October 28 at Gateway Community College, with a tasting that was open to the community.
The Norwalk team, assisted by Justin Davis, Academic Associate for Hospitality Management and Culinary Arts, created a menu of two savory items and a sweet dish in which one of those dishes had to incorporate the signature ingredient – pumpkin.
The savory small bite items prepared by the NCC team were Roasted Pumpkin and Goat Cheese Tartlets and a Smoked Beef Canape with Porter Marinated Shallot Crips while the sweet dessert item was a Apple Cider Brandy Crème Brûlée. Teams also worked collaboratively to create a centerpiece with a charcuterie station, cheese, fruits, vegetables, and assorted artisan breads.
Chef Plum, co-host of CT Public Radio's weekly food show "Seasoned" as well as host and executive producer of "Restaurant Road Trip" on PBS served as the event emcee while CT State President, Dr. John Maduko joined a eight industry experts to create the judging panel. These experts included Michone Danae Arrington and Donte Jones from The Art of Yum; Ben Dubow of Forge City Works; Marc Hussey of Connecticut Technical Education and Career System (CTECS); New Haven chef and restaurateur Emily Mingrone; Dan Monroe of Plum Luv Foods; and Mike Staib of Ergo Chef Knives.
To read more about the competition, please click here.